Locking rings are made of anodised seawater resistant aluminium 6082 (AlMgSI1) and contain stainless steel set screws to achieve a perfect locking on the shaft. Its advisable to pre-drill the rudder shaft a couple of millimetres for the best security. Locking rings are used above the top bearing to prevent the rudder from sliding out of the vessel. Locking rings can also be used underneath the top bearing to prevent a light rudder from floating up. Between a locking ring and the bearing we always supply a delrin ring for a smooth rotation. For super smooth running applications we can supply a delrin ring with a ball race.
Recommended torque setting for the lock ring is 7Nm for M6 set screws and 35Nm for M10. This assumes stainless steel 304/A2 cup point set screw, made to DIN916/ISO4029 fitted to a dry, ungreased thread. It is recommended to pre-drill the stock at set screw locations to ensure a durable lock ring fit.
If the vertical locking is achieved by a locking ring or tiller head on a delrin ring, one could experience a squeaking noise. This can be prevented by spraying a film of teflon on the delrin ring.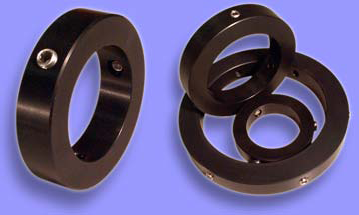 | PART NO. | RUDDER SHAFT dia. | BODY dia. | HEIGHT |
| --- | --- | --- | --- |
| 46030-46039 | from 30 to 39mm | 64mm | 20mm |
| 46040-46054 | from 40 to 54mm | 78mm | 20mm |
| 46055-46064 | from 55 to 64mm | 88mm | 20mm |
| 46065-46067 | from 65 to 67mm | 98mm | 20mm |
| 46068-46074 | from 68 to 74mm | 108mm | 20mm |
| 46075-46086 | from 75 to 86mm | 118mm | 20mm |
| 46087-46092 | from 87 to 92mm | 128mm | 25mm |
| 46093-46105 | from 93 to 105mm | 138mm | 25mm |
| 46106-46115 | from 106 to 115mm | 148mm | 25mm |
| 46116-46124 | from 116 to 124mm | 158mm | 25mm |
| 46125-46134 | from 125 to 134mm | 168mm | 25mm |
| 46... | from 135 to 300mm | CUSTOM MADE | CUSTOM MADE |
| PART NO. | RUDDER SHAFT dia. | BODY dia. | HEIGHT |
| --- | --- | --- | --- |
| 46030-46039 | from 30 to 39mm | 64mm | 20mm |
| 46040-46054 | from 40 to 54mm | 78mm | 20mm |
| 46055-46064 | from 55 to 64mm | 88mm | 20mm |
| 46065-46067 | from 65 to 67mm | 98mm | 20mm |
| 46068-46074 | from 68 to 74mm | 108mm | 20mm |
| 46075-46086 | from 75 to 86mm | 118mm | 20mm |
| 46087-46092 | from 87 to 92mm | 128mm | 25mm |
| 46093-46105 | from 93 to 105mm | 138mm | 25mm |
| 46106-46115 | from 106 to 115mm | 148mm | 25mm |
| 46116-46124 | from 116 to 124mm | 158mm | 25mm |
| 46125-46134 | from 125 to 134mm | 168mm | 25mm |
| 46... | from 135 to 300mm | CUSTOM MADE | CUSTOM MADE |